![if !IE]> <![endif]> <![if IE]> <![endif]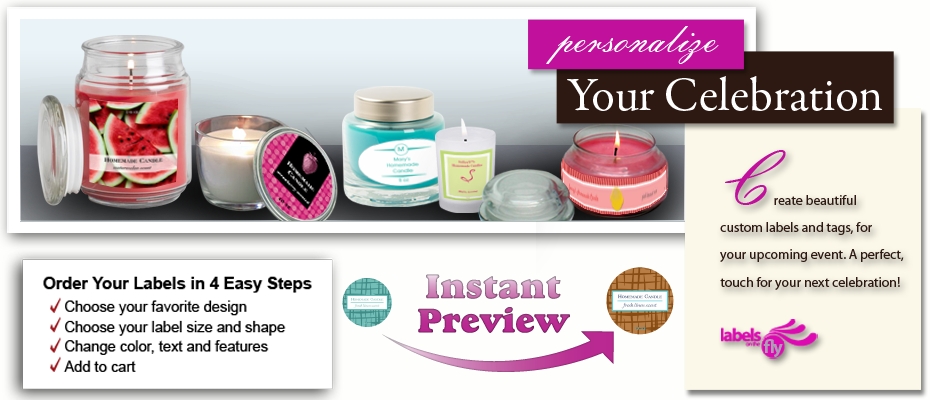 Welcome to our collection of Personalized Candle Labels, Candle Tin Labels, Candle Favor Labels, and Votive Candle Labels! We offer thousands of design possibilities to choose from and instant previews to ensure your labels look perfect before you place your order. Our easy-to-use design tool allows you to choose from a wide range of designs, sizes, colors, fonts, images, and more to create a label that perfectly matches your candles and brand. Whether you're looking for candle tin labels or candle favor labels, we've got you covered. Our high-quality labels are perfect for adding a personal touch to your candles, making them ideal for wedding favors, baby showers, bridal showers, and more. With our 1000s of design possibilities, you're sure to find the perfect label to suit your needs. So why settle for plain, boring candle labels when you can create something unique and personalized? Browse our collection of personalized candle labels today and start designing your perfect label!
If you make your own candles you need to look no further than LabelsOnTheFly.com We carry one of the largest varieties of unique candle labels that can be specially personalized to represent your candle scent as well as any event you may have. We have a wide variety of personalized candle Christmas labels as well as Hanukkah Candle Labels.
In addition, all of our
wedding labels
can be personalized and used as wedding candle favor labels.
All of our custom candle labels come in a variety of shapes and sizes, including square candle labels, circle candle labels, oval candle labels as well as wrap-around printed candle labels. We also carry a wide variety of candle hang tags as well as candle photo labels.
To view all of our custom printed candle products please visit our all
candle products page