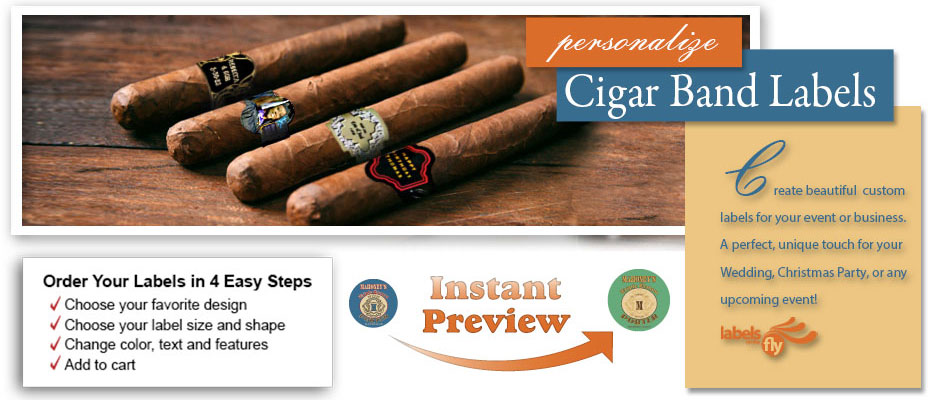 Add a unique touch to your cigars with personalized cigar labels. Our fully adhesive labels won't damage your cigars and are perfect for weddings, business events, and more. Create your custom cigar band today!
Customized and Personalized Cigar Labels and Cigar Bands.
Celebrate special occasions with a personalized cigar using our cigar band labels.

Our cigar band labels are printed on a special fully adhesive label stock that uses a low stick, a removable adhesive that will not damage your cigar when removed.
Cigars are an ideal gift for just about any occasion be it a wedding or a birth announcement. Nowadays cigars are also used for business events. One can add a special personalized touch to cigars by getting custom cigar labels. A custom cigar label will put a whole new dimension to your regular cigar.
Such a label will commemorate the occasion for which you are gifting the cigar. Custom cigar labels are not only perfect for special occasions like weddings or bachelor parties but also can be used by restaurants, for promotional giveaways, for trade shows, and even for golf pro shops. Now thatís really great. Custom cigar labels are really in vogue these days.
Some of the reasons for their growing popularity are noted below: - The first and most obvious reason is that they let you add your exclusive touch to your cigar. - These cigar labels are printed using full-color commercial printers. So you get the best color quality which will surely mesmerize the lucky person who gets the gift. - You can get these bands in just any color you desire and many of our designs even let you add a photograph to these cigar labels.
Couldnít have asked for more. Custom cigar labels without a doubt can work wonders for just any event. So if you want your event to be a sure shot success then place an order for customized cigar labels right away. We are sure your guests will love you for giving such a wonderful gift.