Personalize Your Favors
FUN CRAFTS AND ITEMS TO GIVE YOUR WEDDING THAT UNQIUE, PERSONALIZED TOUCH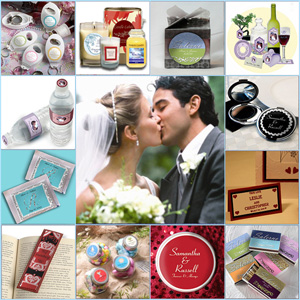 If you are are looking for:
then you come to right place.

Wedding Favors with 1000's Design Possibilities - Unique Wedding Favors - Stylish Wedding Favors at Affordable Prices. Personalized Wedding Favors and Bridal Shower Favors...
What are the best wedding favors?
Wedding favors are small gifts given as a gesture of appreciation or gratitude to guests from the bride and groom during a wedding ceremony or a wedding reception.
Wedding favors have become a part of wedding reception planning, especially in the United States and Canada. Wedding favors are diverse and usually complement the theme or season of the event. Classic favors can range from the classic sugared almonds or individual chocolates to candles and scented soaps. Modern gift trends include: CDs with the favorite music of the bride and groom, shot glasses filled with colored candy or silver picture frames with a photo of the couple. Gifts may also be personalized with the couple's names, initials or wedding date.

The wedding day is a day that everyone wants to remember. However, they also want to put their own spin on this. This means that they have to make things that are personalized. One thing that many do is that they personalize things that they hand out at their reception and they do this with personalized labels unique wedding labels. These are great to use for wedding favor labels.
The things with these custom labels is that you can order them or you can make these labels yourself. When you make labels, you can add your own design. However, there is something more that you can do as well with these wedding labels. You can use them for things that are a part of the ceremony that you might hand out such as paper fans or such. If you order them, they will have design labels where they walk you through how to design them.

With some of these wedding favor labels, you can put your own picture. People put the name of the bride and groom as well as the date in which they got married. Some people include a quote or a personalized message. All these are things you can do. When you need an added personal touch that are simple to place on any favor you are going to use, then you really need to consider getting these wedding favor labels as they can assist you in doing just that.
Deciding on the theme of your engagement party or wedding can be a true delight or a complete hassle. Labels on the Fly allows you to choose from a multitude of different and vibrant designs and colors in order to help you choose the theme that's right for you. Our various, creative design styles include Tropical, Empire, Medici, Medieval, and many more which can all be found in our wedding labels section of this site.

Give your guests something to remember. Personalized favors are classic touch for bridal and baby showers, weddings, anniversaries, birthdays, bar mitzvahs, bat mitzvahs or any other memorable special occasion, with your name and date, and even a photo.Thank the guests who attended your special event with a personalized DVD, music CD, bottled water or custom designed coasters with your special message printed on them.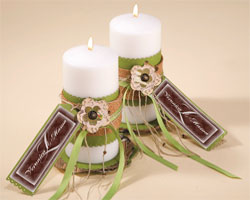 Everyone loves candles, and you can personalize candles on your guest's tables for an elegant centerpiece. We have eye-catching wine labels to add that extra touch. If you make your own jams and jellies, you can add your name and the date to a label for your canned fruits and veggies for a person touch to your homemade favors, and even make recipe cards that you share. Personalize the packaging for your homemade candy, cookies, candles or soap. Add your personal touch to anything by attaching an exquisite custom designed gift tag. Visit our gift and favor page to get more gift ideas for the holidays and offer unforgettable personalized keepsakes for special events, family reunions and the important celebrations that landmark your life.
Cool Wedding Favors Ideas
Popcorn Bags: Are you and your beau movie-buffs? Are you planning on having a unique, cinema-themed wedding? Why not decorate the surrounding dinner tables with a true touch of movie-theatre nostalgia? Personalized popcorn bags featuring our basic circle and scalloped circle favor tags and food and craft labels designs are the perfect complement to any red-carpet ceremony, and can be used to hold a tasty treat for guests or light up the aisle as candle-holders.

You might also try our exclusive Movie-Ticket Invites to add to your cinema theme big event.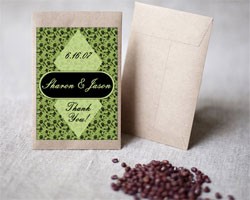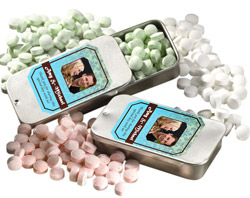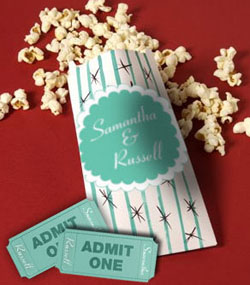 Mint or Candy Tins: While the wedding food may be utterly delicious, it's the after-dinner mints that leave your guests feeling refreshed and happy. Labels on the Fly allows you to decorate your wedding tables with small, personalized after-dinner mint tins. Featuring our 1 1/4" w x 3/4" h ovular and 2 1/2" w x 1 1/4" h rectangular labels, these tins will leave your guests impressed while the mints leave them refreshed.

Seed Packets Labels: There is nothing more special in life than planting the seed of love and watching it grow into something truly beautiful. Labels to Fly offers custom designed wedding flower-seed packets, featuring our elegant floral and classic design and perfect for showing your special someone just how much you admire their green thumb. By presenting them with their very own packet of wedding flower-seeds to plan together, so can be sure that the flowers will continue to blossom for years to come.
Unique Personalized Favors and Promotional Products
Our Laserlogik.com is the premier graphic designer's source for laser die cut business cards and custom letterhead, personalized labels, customized magnets and stickers.   Industrial applications for LaserLogik's precision digital laser cutting services include die cut gaskets, gift boxes, custom packaging , and a variety of components that require die cut shapes.
Advertising agencies can take advantage of our laser paper cutting for creative marketing materials, corporate identity pieces, and table-top displays.
We offer laser cut through, perforation, drilling and scoring on materials ranging from paper and cardboard to rubber, polypropylene, vinyl and acrylic.
LaserLogik's laser die cutting services are perfect for short run specialty items and prototypes, as well as mass-produced precision parts.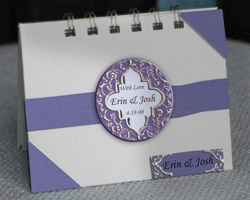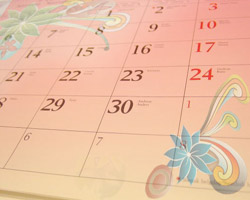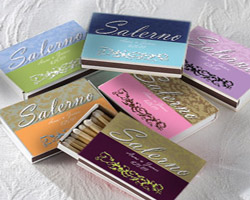 His & Hers Bookmarks: A clever way to surprise your spouse-to-be is to present them with a copy of their favorite book, inside of which could be an even bigger surprise – a personalized bookmark designed to show them just how much you care. With Labels on the Fly you can custom create your very own bookmark, guaranteed to make a truly touching gift for any friend or loved one.
Personalized calendars: What makes a better birthday, anniversary, or wedding gift than a customized 12-month calendar full of personalized photos. Featuring our custom wedding, birthday and holiday labels as well as your favorite favorite photographs, you or the gift recipient's fondest memories merge into a single masterpiece that will be look at daily.
Match Packs: Focusing less on the big day, and more on the evening right before it, personalized match boxes featuring our wedding labels are a fun gift to give friends and loved ones who not only show up to the wedding but, more importantly, make an appearance at the bachelor or bachelor party the night before. Even if your guests don't smoke these distinctive match boxes are a great collectable for those who want an item to help them remember the big day and the wild night before.

Candle Bags: Are you having a beautiful evening wedding? With Labels on the Fly you can romantically light your way down the aisle with a variety of beautiful, personalized candle-bags designed using our beautiful wedding labels. Uniquely decorated to your specified theme, these simple yet memorable candle bags make an elegant, creative addition to any evening ceremony.

Memory Note-Book: Searching for a good gift for your next special occasion? Labels on the Fly recommends the small but unforgettable Memory Note-Book, featuring our circular and ovular wedding, holiday, and birthday labels, and filled with all your best memories of the gift recipient. Whether its with our stylish Mannerism and Nouveau designs, or with our simply stunning Ribbon and expressive Modern designs, the Memory Note-Book makes a sweet and special gift. Recount how you met your spouse-to-be with a notebook filled with personalized love-stories. Share silly anecdotes on any birthday or recount romantic tales during your anniversary. Give a great going-away present to your friend or neighbor that's going out of state. Show the people you care about how much they've made a memorable impression on you by giving them a custom designed Memory Note Book.